Who's ready for holiday parties?! You can't tell, but my hand is currently raised.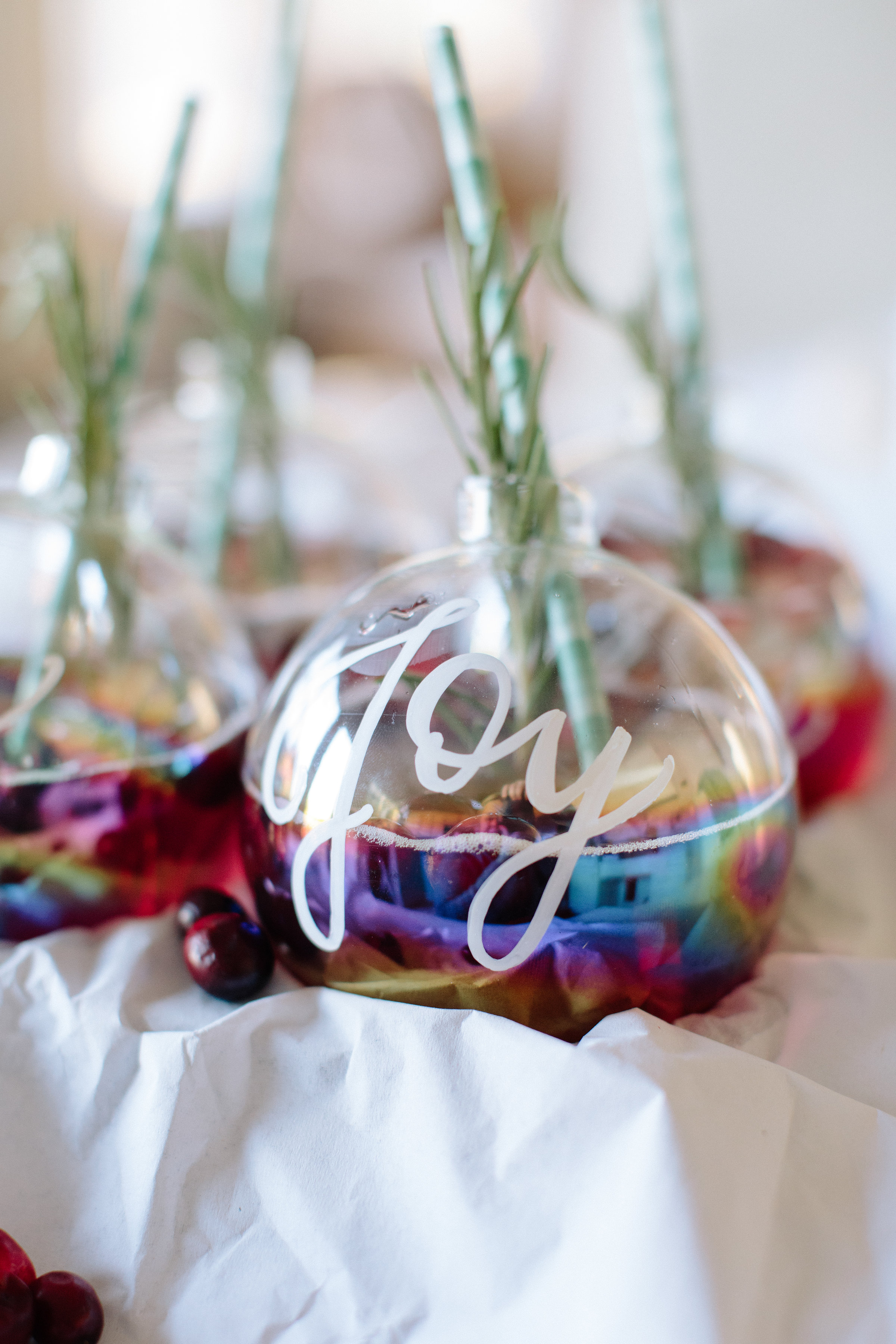 It's no surprise, I'm sure, but I love parties. Like, you know how Buddy the Elf loves Christmas? Well, that's how I feel about parties! Since having Ryan (now a year and a half old ... holy moly, how did that happen?!), we don't get out much. Sad, but true ... #momlife. But it doesn't mean my love for parties has dimmed even slightly.
One night I was thinking of ways to fancy up my Friday couch session, and thought - hey, wouldn't a fun cocktail make this laid back night feel more exciting?? And that's how this Cran-Raspberry Vodka Fizz was born. I'm no mixologist, though. This is inspired by a drink created by One Sweet Mess, because I prefer vodka over gin.
You'll need:
yields 1 serving
1oz Vodka
1/2oz Cointreau or Triple Sec
2oz Cranberry Raspberry Spritzer (I found a great one at Trader Joes) OR you can use cranberry sprite
~1tbsp Orange juice (I squeezed 2 orange slices)
2 Rosemary springs
Cranberries for garnish
Cocktail shaker
Ice
Glass ornaments, large (I found these at my local Michaels)
Acrylic paint pen, oil-free (I used Sharpie brand to letter these)
First up, time to do some faux calligraphy! Take your acrylic paint pen and write anything you'd like on the ornaments. I was going for a Holiday vibe, so I went with Holiday-ish stuff. But you can write your name on it, or your guests names, if you'd like to personalize them a bit more! The paint should be dry after about 3 to 5 minutes, so let it sit while you move on to step two. (Pro tip: if you mess up your lettering, use rubbing alcohol on a cotton ball to take off the paint and just start again.)
Now it's time to make the drinks! Take your shaker and add in the vodka, cointreau or triple sec, and rosemary sprig. Give the rosemary a little shake prior to adding it to the shaker to bruise it a bit, or you can muddle the sprig just a little to release some fragrance. Add in some ice, the cran-raspberry spritzer, and a few squeezes of orange. Give it all a really good shake. Pour the contents of the shaker into the glass ornaments. Add in a fresh sprig of rosemary for garnish and a straw, so it's easy to drink. You can even pop in a few cranberries for extra garnish.
The tart of the cranberry mixed with the sweet of the orange makes this drink extra delightful, and really refreshing!