I absolutely adore this couple! Everything about them is #couplegoals. It was a rainy and windy Saturday when Brittani and Taylor said "I Do", and Charlotte, North Carolina was feeling the effects of Hurricane Joaquin. But our beautiful bride and dashing groom didn't let the unwelcome storm dampen their wedding day one bit! In fact, you can see how gusty the winds were in one of the photos where Brittani's veil flew right off! Just wait for it!
With classic and elegant style in mind, we used a neutral color palette of navy blue, cream and gold, with a few sparkly touches. The soft details and clean lines were perfect for their modern venue, The Mint Museum Uptown. Brittani's style is effortless, and she wanted to create a day that reflected her personal style. So we focused our design around the fun party atmosphere by adding in lounge furniture for alternative guest seating, where they could enjoy the heavy hors d'oeuvres menu and fabulous live band. The caterer passed around late night snacks like grill cheese - a favorite of the bride and groom - and chicken fingers with fries as the guests partied into the night at one of Charlotte's premier venues. And with a grand streamer exit, the happy couple hopped into a pedicab at the end of the night.
I'm so lucky to get the chance to work with such amazing couples! Brittani and Taylor were such a joy to work with, and it was an honor to be a part of their celebration. I wish we could do it all over again - but maybe with a tiny bit less weather drama! ;)
Huge thanks to our talented vendor team who went above and beyond for our sweet bride and groom:
Wedding planning + design: The Graceful Host
Photography: Lauren Rosenau Photography
Florist: New Creations Flower Company
Catering: Something Classic Catering and Cafe
Wedding dress: Martina Liana from J. Majors Bridal Boutique
Hair and Makeup: Be Pretty by Lindsey Regan Thorne
Rentals: AFR
Rentals: Party Reflections - Charlotte
Rentals: Nuage Designs, Inc
Cake: Wow Factor Cakes
Paper Goods: Salt and Paperie
Calligraphy: The Graceful Host
Venue: The Mint Museum Uptown
Thank you Borrowed & Blue for featuring Brittani and Taylor's wedding! See the full feature, here.
Brittani and Taylor's portraits are some of my favorite in my 5 years of weddings. Wedding days are unpredictable. You never know what is going to happen, despite the hours and hours of careful planning. On this day, weather was not our friend. Hurricane Joaquin was showing affects in Charlotte, and it interrupted our plans for photography. But you'd never be able to tell because Brittani and Taylor look absolutely incredible and so madly in love! The way they look at each other is magnetic. And the photo of Brittani's veil flying away is just priceless! Don't worry - I ran after it! :)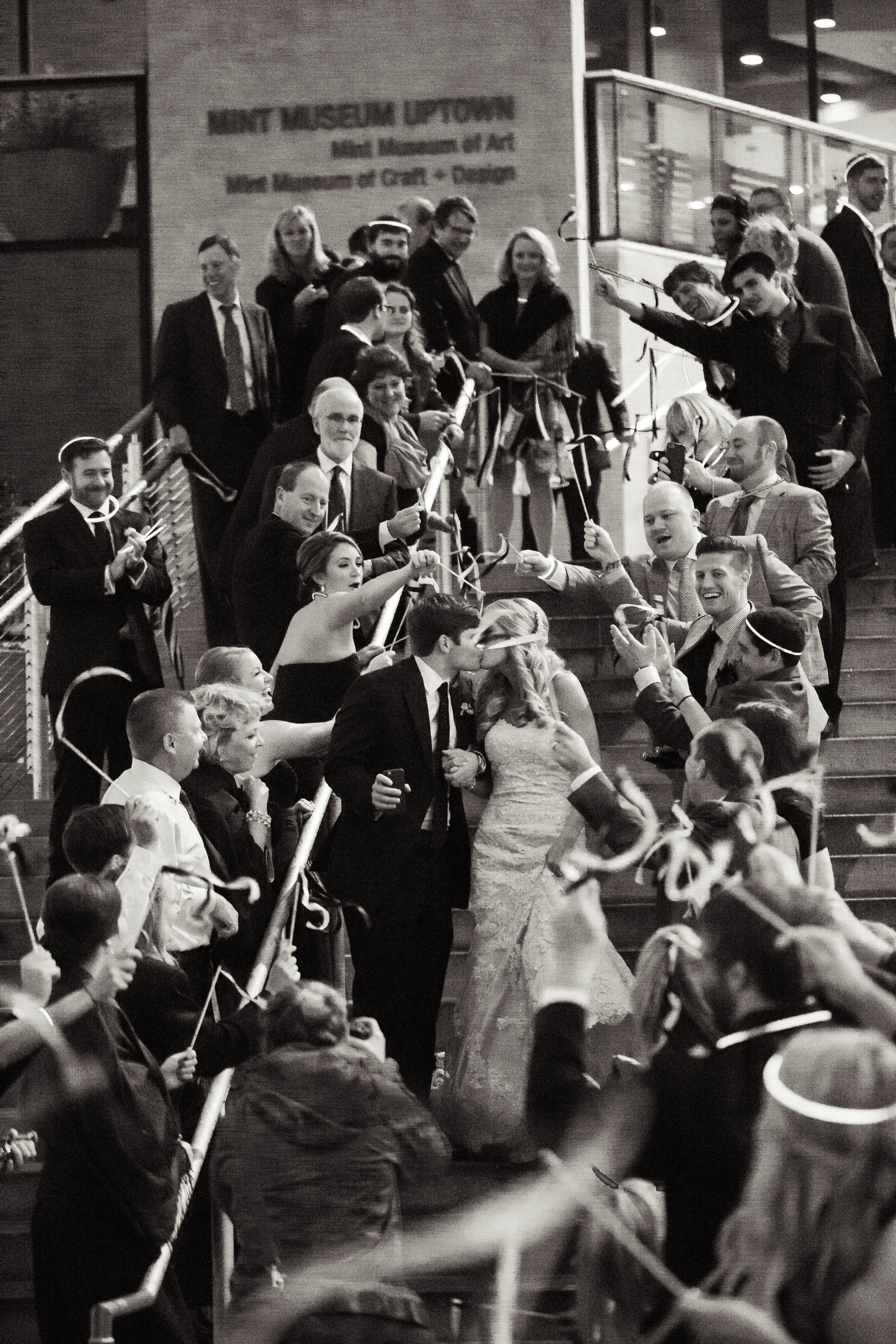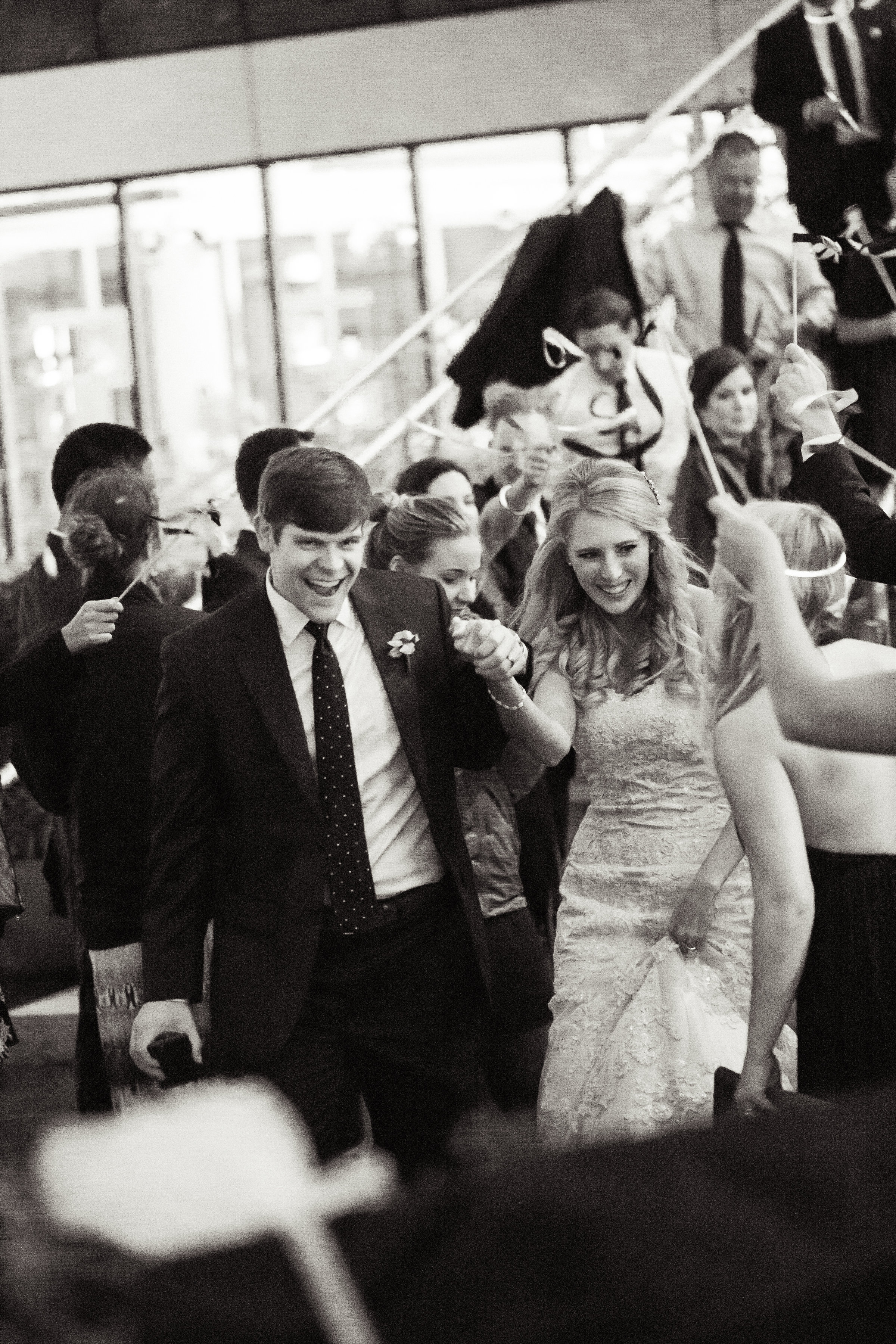 Brittani and Taylor, thanks for letting The Graceful Host be a part of your beautiful celebration! We absolutely loved working with you to plan for your wedding! Lots of love to you both!
XO,
A.