are you ready
to party?
party planning has never been this easy.
INTRODUCING
THE GRACEFUL HOST PARTY KITS
A NEW WAY TO APPROACH PARTY PLANNING SO THAT YOU CAN CREATE UNFORGETTABLE MEMORIES
It's about time we simplified party planning, am I right?
No longer do you have to spend hours upon hours hunting down all the things to throw a party.
Party Kits will be your favorite secret weapon to creating a fabulous party! Say bye, bye to the hassle and stress that used to come with throwing a party, and hello to spending more time focusing on what matters most to you.
Each kit comes complete with paper supplies, decor and a style guide, for extra party planning guidance and inspiration, as well as DIY project ideas that relate to your chosen party theme.
Time Back
You don't need to spend hours, upon hours designing a party. Who has the time, anyways? Each party kit theme has been thoughtfully designed and comes complete with all the supplies you need to throw a kickass party without spending all the time planning it!
Party Supplies
Party supplies, including the plates, napkins, cups, & cutlery (serving up to 32 guests), to save you the time and inconvenience of having to find it all yourself.
Done for You Planning
You might not feel like the creative type, or have all that extra energy to pour into DIY projects. You've got plenty of other things to worry about! With one click of a button, you can check (almost) everything off your party to-do list
Stylish Decor
Stylish decor, like balloons, banners, etc., that relate to the box's theme, so that you don't have to figure out where to find the best decorations.
#PinterestWorthyParty
You want all the cute decor that makes you "ohh" and "ahh," but you just don't know where to go searching for it. Getting started can feel so overwhelming! I've searched high and low to find creative, high quality products so that you don't have to!
Style Guide
Access to a style guide with helpful party planning tips and advice, as well as tutorials for DIY project ideas, to give you the tools you need thrown an amazing party and simplify planning even more. The guide also come with a step-by-step tutorial DIY project that relate to your party kit, incase you do feel a bit crafty.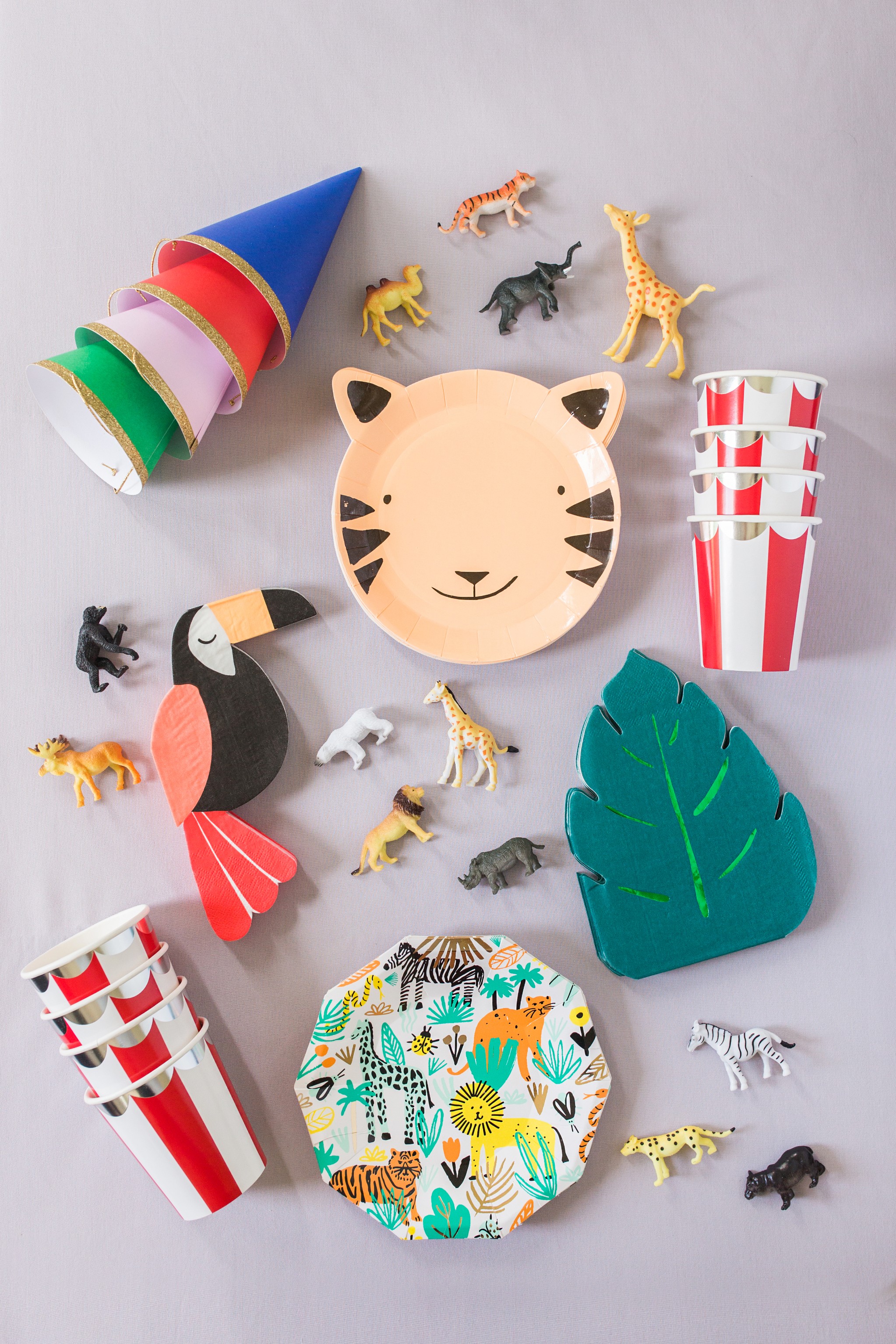 Go wild! A curated box full of everything you need to throw the wildest celebration ever!
Each Party Animal kit is perfect for parties with up to 24 party guests.
Party on, y'all!
It's a donut party! Go nuts for donuts with everything you'll need for the perfect donut celebration.
Each Donut kit is perfect for parties with up to 24 party guests.
Life's short – eat the donut!
How's that song go? Oh I remember – it's "Ice Cream, you scream, we all scream for ice cream!" Get ready for the sweetest party ever!
Each Ice Cream kit is perfect for parties with up to 24 party guests.
Warning: This party might give you a sugar high.
Wham! Boom! KaPow! Your mission, if you choose to accept it, will be to throw the most super party of all time!
Each Superhero kit is perfect for parties with up to 24 party guests.
One thing is for sure - This party packs a punch!
Do you want to escape to a tropical paradise?! Yeah, me too!
Each Tropical Paradise kit is perfect for parties with up to 24 party guests.
After experiencing tropical paradise, it might be hard to return to reality!
Get ready to fiesta with the ultimate fiesta party kit!
Each Viva la Fiesta kit is perfect for parties with up to 24 party guests.
Viva la fiesta!
where can I find the Party kits?
Who is The Graceful Host?
Hi, I'm Ashley Culicchia Cash, owner of The Graceful Host! I'm a wife to my college sweetheart, a mama to a little redheaded boy, and expecting another babe in early October 2018.
And I'm also just a girl who has a deep love of celebrating anything and everything! The Graceful Host began as a wedding planning + design firm in 2012. My company and skillset continued to evolve over the next few years to also include calligraphy services, and I officially started an Etsy shop with hand-lettered goods in 2014. One of the favorite things about my job has always been the design process - I love seeing my clients vision come to life!
There's no better feeling than seeing happy smiles after months of planning and dreaming. We continued to grow, expanding by one in April 2016 with the birth of our son, Ryan. After hearing countless moms talk about the difficulties they've experienced trying to create their own celebrations, while juggling all the things, I thought to myself, there just has to be a way to make all this easier so that everyone can enjoy party planning like I do!
And that, my dear friends, is how the idea for the Party Kits was born! It's my mission to bring joy and happiness to each and every person. Okay, so a party might not solve all the problems of the world - but it can help make the world a little brighter, one smile at a time!
That's what I'm here to do … make it easier for you to create special celebrations and spread joy. One party at a time!
WHAT IF I'M NOT VERY CREATIVE? WILL I BE ABLE TO UTILIZE THIS PRODUCT AND MAKE IT LOOK LIKE THE PHOTOS?
Absolutely, without question! There is no creativity required to have a fabulous party when you purchase the Party Kit! Each box has been thoughtfully and carefully designed, and the creativity is built right in.
WHAT'S A STYLE GUIDE?
I decided to include a style guide with each Party Kit to make the party planning experience even smoother for our customers. And the style guide is a way for me to give you additional party planning tips - straight from a seasoned professional! Within each box, you'll receive access to a website link that will take you to your style guide. Here you'll find advice around party invitations, creating a menu, party start times, providing favors, and gift etiquette. I've also created DIY tutorials for each Party Kit so that, if you feel like it, you could be a little bit more hands-on. Each tutorial is a simple PDF print out with templates to take your Party Kit to the next level!
MY LIFE IS SO BUSY! I DON'T THINK I HAVE TIME FOR THIS?
If you have a busy life, then this is absolutely the product for you! Busyness plagues us all. But I've designed each kit so that you don't have to spend hours upon hours hunting for party decor and supplies.
I SEE YOU HAVE 6 PARTY THEMES LAUNCHING. IS THERE A LIMITED NUMBER OF EACH PARTY KIT AVAILABLE FOR PURCHASE?
Supplies is limited. For this launch, I have 6 party themes with 11 kits available per theme. Once they are sold out, they are sold out. Plans to restock will be announced in early fall 2018.
I HAVE A PARTY THEME IN MIND, BUT I DON'T SEE IT LISTED IN THE SHOP. CAN YOU STILL HELP ME?
I do offer custom party kits for just this reason! If you already have a theme in mind, or if you need help coming up with a party theme, please reach out so that we can create a customized party kit box just for you.
I SEE THAT THE KITS SERVE UP TO 24 GUESTS. WHAT IF I AM EXPECTING MORE THAN 24 GUESTS?
If you're expecting more guests than what the party kit serves, we can add on additional servings for you. Contact us so that we can better accommodate your needs.